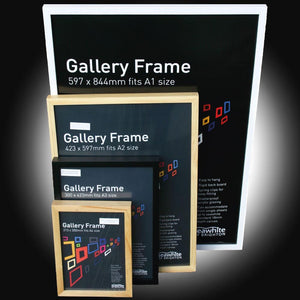 These solid wood frames with shatter-proof acrylic glazing allow quick mounting of paper, 1.8cm canvas frames or canvas boards - simply clip work in to gain instant results.
Lovely clean lines complement any artwork you wish to frame. These frames are incredibly versatile and offer fantastic value for money! They are super-quick to use and can accommodate paper, board and 1.8cm canvas panels in the popular 'A' sizes.
Frames come in 'A sizes' A4, A3, A2 & A1 and also in either Natural Wood, white or black.
Key Features
Solid wood with contemporary black, white and natural finishes.
Easy to hang
Rigid Back Board
Spring Clips for easy fitting
Shatterproof acrylic glazing
Can accomodate from single sheets up to standard 18mm depth canvas